I want to share with you my facial care routine of the moment, it is 4 cosmetics that agree that we have dry skin or that your skin needs a specific treatment in winter. It's time to take care of the face, neck and lips with a serum, lip balm, face cream and mask.
It's up to you to pick the cosmetic that tempts you the most or to offer you the whole of this winter care routine.
In this season skin problems are specific because of external aggressions that can cause dander on certain areas, dehydrated skin, a weakened face, a feeling of discomfort, accelerated aging or even more tired skin than usual.
How to regain a well-hydrated skin? (which retains the water essential to its life and beauty)
How to have comfortable and nourished skin? (thanks to vegetable oils and butters). How to have soft lips and feel good?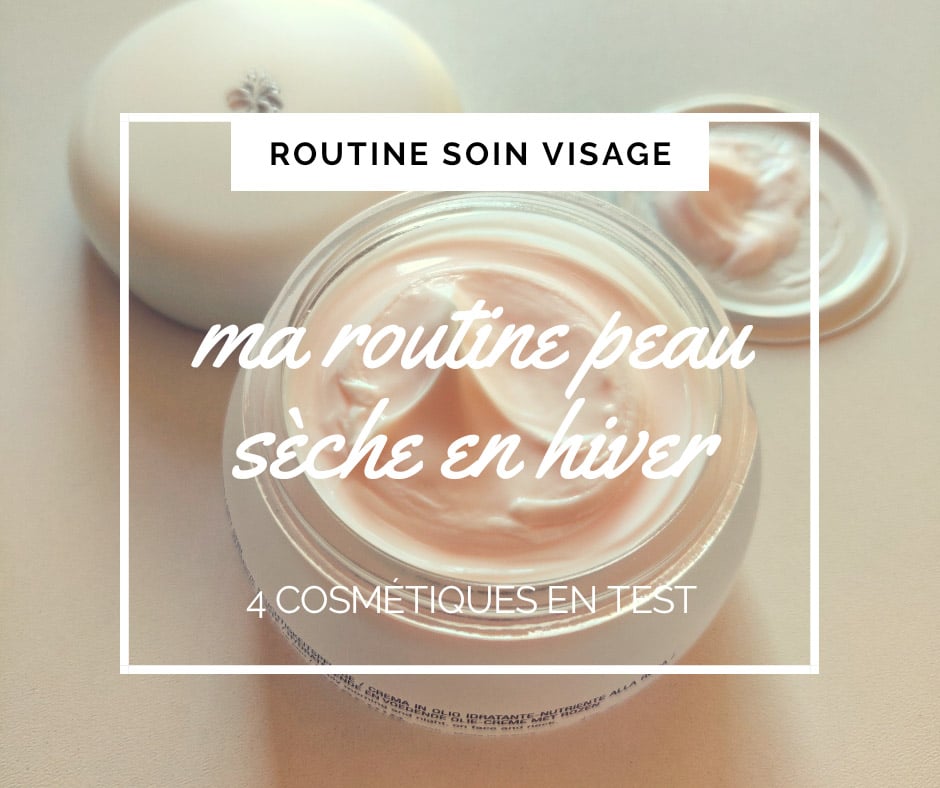 What opinion on the honey lip balm NUXE dreams of honey?
Reformulated and restyled, this generous 15ml jar has an elegant black hat. Whether you are a woman or a man, in winter our lips peel and germinate easily. The cause of the wind, temperatures and tongue passed on our lips. The epidermis of the lips is special because it hates the moisture that el weakens, this area of the face likes waxes balms.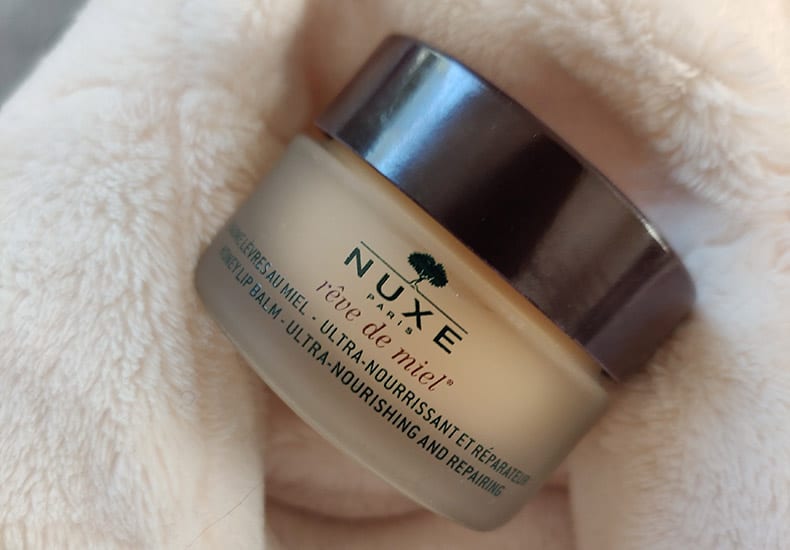 This Nuxe lip balm forms a protective layer that tells the wind and the outside thanks to beeswax. The flexibility and repair of the lips are provided by the Oleoactive® of Propolis, the precious vegetable oils (Sweet Almond and Rosier Muscat) and the fabulous Shea Butter. This Shea that does so much good to repair the skin and that I often recommend.
A hint of dimethicone to ensure glide and proper distribution, a volatile silicone that makes this cosmetic pleasant with 84.5% of ingredients of natural origin.
In terms of smell you can smell the essential oils of grapefruit and lemon.
Lips remain natural with this balm you do not stick at all: men can use it without fear. I really liked this lip care and I highly recommend it.
My Tip: thick layer at night to make it an SOS repair moisturizer mask.
What's the opinion on Plantscription Plantscription Face Serum from Origins?
If you discover the cosmetics brand Origins, be aware that it is a range of powerful natural suitable aids of the Estée Lauder group. At Origins, the Plantscription range is the most concentrated in plant active ingredients: the best serums, anti-ageing creams and anti-wrinkle eye creams for mature or intensely needed skin. So you can use the serum or their eye contour at the first signs of age to stop the process, or much later to treat wrinkles and fine lines, sagging.
This exceptional treatment is suitable for sensitive skin, normal skin, dry skin … in short to everyone.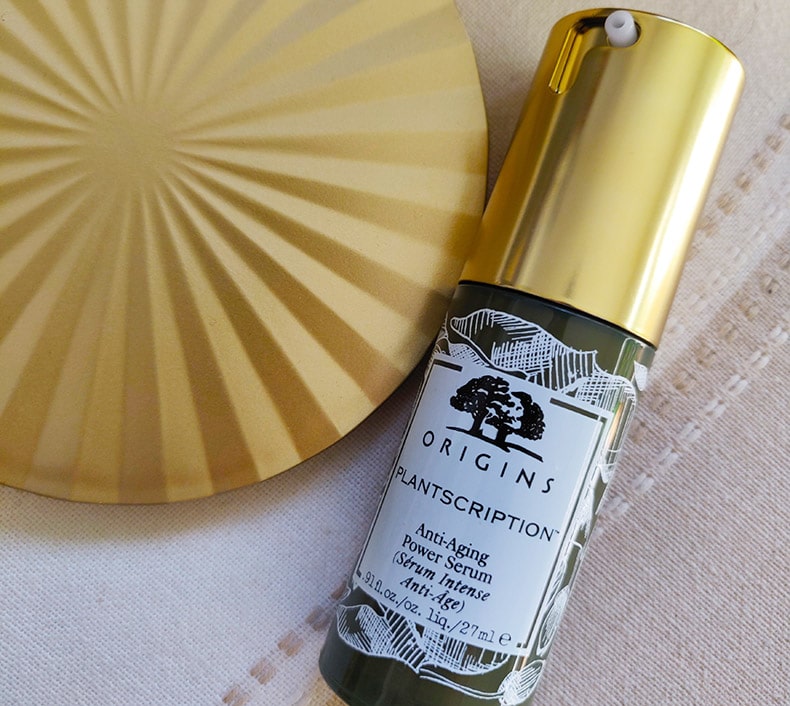 I use this anti-Aging Power Serum Plantscription in a 1 vial cure each winter, it is rich with 20 targeted plant extracts: Anogeissus from Ghana, extracts from Bamboo and peas from Australia, Criste-marine de France and Commiphora d'Inde, to name a few, which make this anti-aging serum the most powerful. FormED WITHOUT Parabens, phthalates, sodium laurylsulfate, propylene glycol, mineral oil, oil, DEA, petrolatum, paraffinine, polyethylene beads, formaldehyde and animal ingredients.
Fast-penetrating serum, I feel its action every time and I like its soothing sweet smell (100% natural Essential Oils of Rose, Orange and Anis).
In 8-week cure this Plantscription serum helps to reduce emerging wrinkles, restores flexibility with its emollient active ingredients and volume especially at the cheeks and pomettes. On the neck it helps to stay firm and slightly reduces the wide transverse wrinkles (aging of the skin that widens and marks).
In summary I noticed: less fine lines, less sagging, a uniform complexion and a more fleshy skin, smoother skin.
A single pressure of the Anti-Aging Power Serum Origins is enough for the whole face and neck, it is better to treat regularity than to put a lot of. A good beauty gesture to use in the evening, when your skin repairs and renews itself (during the day it sleeps your skin!).
Always below your moisturizer or cream, because a serum is never used as is.
My Beauty Test of Hydra-Nourishing Oil Cream with Darphin Rose
Here is a face cream with a high-end texture with a triple concentrated rose (flower wax, absolute and rose essential oil).
No greasy effect on the skin thanks to a choice of pure vegetable oils selected in perfect affinity with the skin. A pleasant sensoriality and an easy penetration of this facial. No shine either, a soft, comfortable and protected skin without inconvenience.
If you can afford this cream sold between 42 and 49 euros, it is a happiness that makes you want to take care of yourself every day.
This cream rose oil has a discreet, almost imperceptible smell.
The hydration of my skin is excellent and my skin yet reactive in winter (sometimes patches) … remains balanced and in shape: cocoon of hydration and nutrition.
The composition is really excellent and vegetal, with moisturizing sugars, oils, herbal balms ... Protection from external aggressions you act to preserve dermatological balance.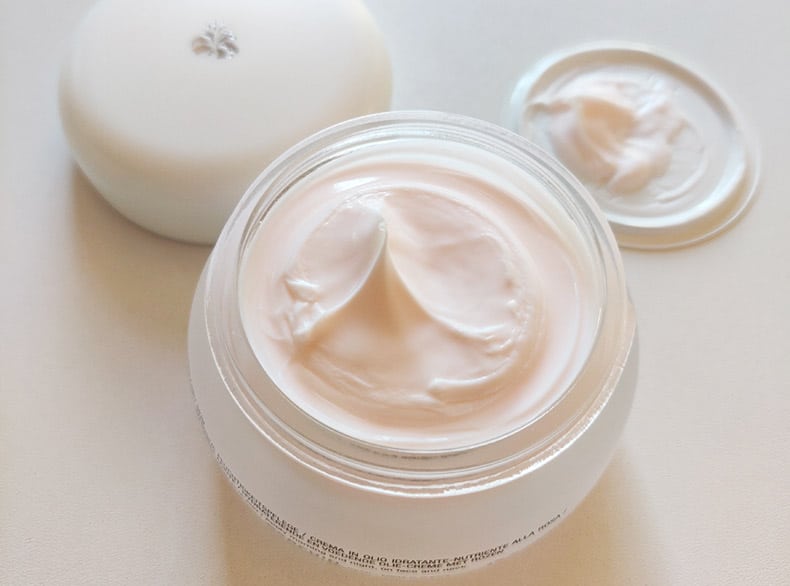 Tip optimized application of creams, by Darphin:
Use the folded thumb and forefinger to catch and knead the smiling muscles. Use the pulp of the indexes and draw the letter S to relax and stretch the eyebrow muscles. Use the heel of the hand to lift, reshape and work the muscles of the smile. Then pivot with firm pressure to grab the muscles of the blow and finish along the trapezes.
And as a mask is a relaxing moment just for you:
What is the Estée Lauder Revitalizing Supreme Face Mask worth?
A balm mask e 75ml to let put on, without rinsing. Useable either in bursts before an evening, or at night or on Sunday to rejuvenate the skin.
This Estée Lauder Revitalizing Supreme face mask brings plenty of shea butter and fine shea oil (repair, antiage, comfort). Non-acnegenic and with a pleasant creamy texture. Gives a lot of sparkle immediately with its extract of Mimosa, cucumber as well as a dozen other plant active ingredients.
Hydration and comfort are amplified by vegetable squalene and hydro-stretchers.
The anti-ageing action is amplified by probiotics and prebiotics.
A mask to use 2 to 3 times a week in winter and with a dreadfully effective effect.
Always listening to you here, by email or on Instagram where you usually ask me your beauty questions.
It's been a pleasure to share your loyalty for so long.
See you soon.
The F
PS: I actually bought these 4 cosmetics, this article is sincere and without consideration of the brands cited.