I often talk about cosmetics that my sensitive reactive skin likes. Here is a useful duo for moms, babies, men … so body care for the whole family at La Roche Posay, Lipikar range. LIPIKAR takes care of dry and sensitive skin from the smallest to the largest.
The Lipikar range contains shea butter, especially lipids/oils useful to protect and repair our skin. This range is perfect for dryness, ultra-dry skin, reactive skin … and all the skins.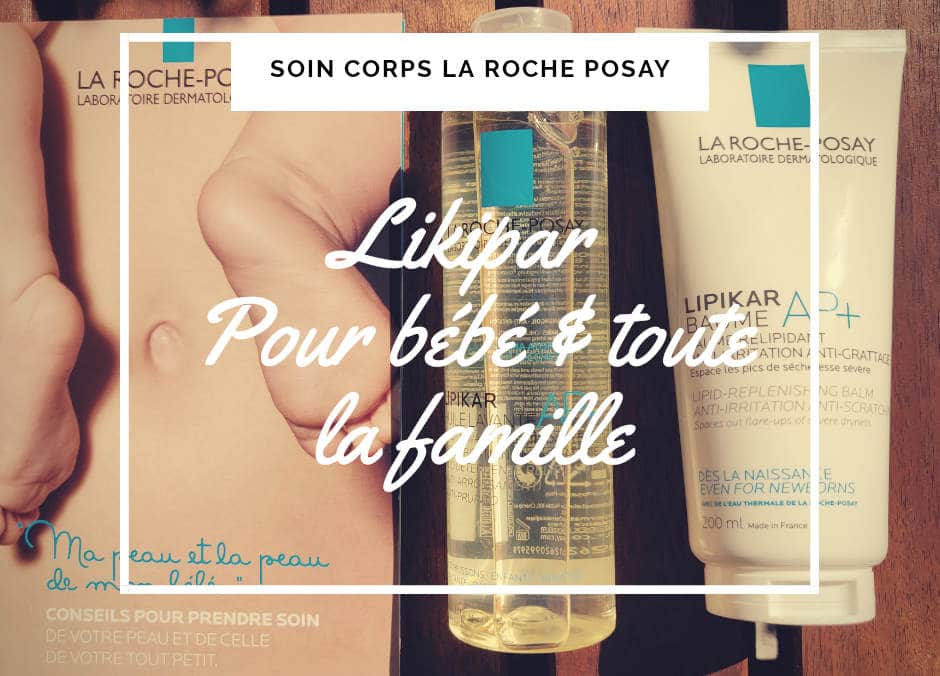 The brand offered me:
LIPIKAR WASHING OIL AP 200 ML (VALUE: 12.30)
LIPIKAR BAUME AP 200ml (value: $17)
The Advice Guide "My Skin and My Baby's Skin" (value: €1)
Before this know that I already use Lipikar Syndet AP as a shower gel in winter and other brands of shower oil with more or less success (my skin reacts to many gels or shower oils).
My skin is called "atopic" ie a skin with poor permeability and a hyper-reactive and unbalanced immune system. The skin is dry, irritable and overactive.
Lipikar products are hypo-allergenic and dermatologically tested on sensitive or even allergic skin with an atopic tendency. Ingredients and preservatives are limited in number and quantity to the bare necessities.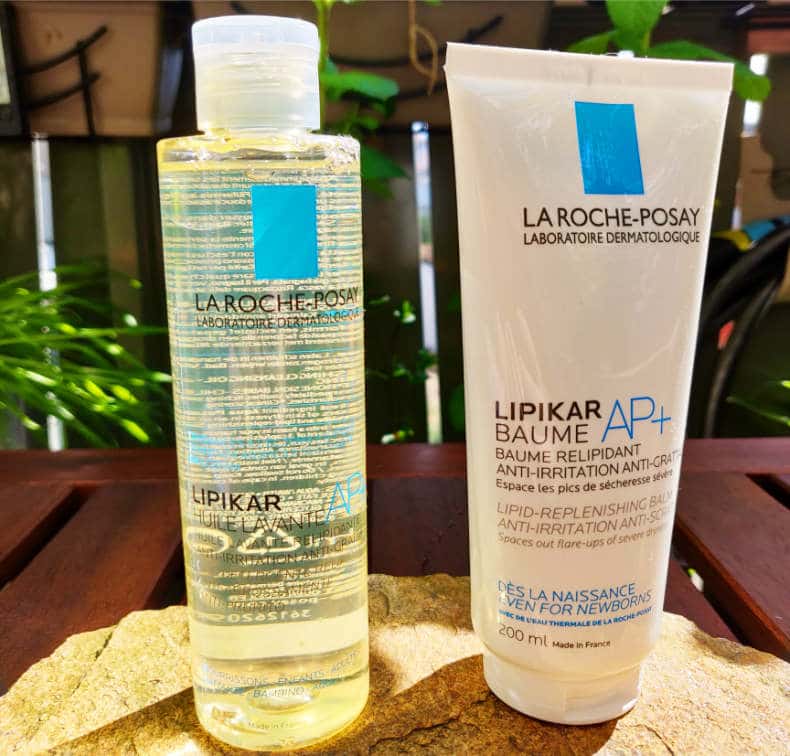 How effective is Lipikar La Roche Posay washing oil?
This Lipikar AP washing oil pleases me with its gelled texture that does not flow between the fingers to emulsinate it in my shower.
This laving oil La Roche Posay AP is a good foam and smells good thanks to a light and pleasant fragrance. It is a pharmacy product … but nice.
Concentrated in thermal water of La Roche-Posay (66%), it contains a biotic post that can rebalance the skin flora and restore the barrier function of very dry and fragile skin and shea butter relipidant and restorative. Tested under paediatric, dermatological and ophthalmological controls this Lipikar shower oil will soon be adopted by the whole family because it washes really well and offers a very supple skin to rinse.
This La Roche Posay relipidante washing oil formula is really high tolerance and anti irritation, anti itching: I can wear jeans, washed without softening, without wanting to scratch my legs.
In this washing shower oil your skin enjoys several moisturizers (glycerin, sucrose) and several natural plant emollients (coco, shea) for supple skin. Provitamin B5 (Panthenol) soothes irritated skin.
A touch of citric acid (lemon) destroys the limestone of the water.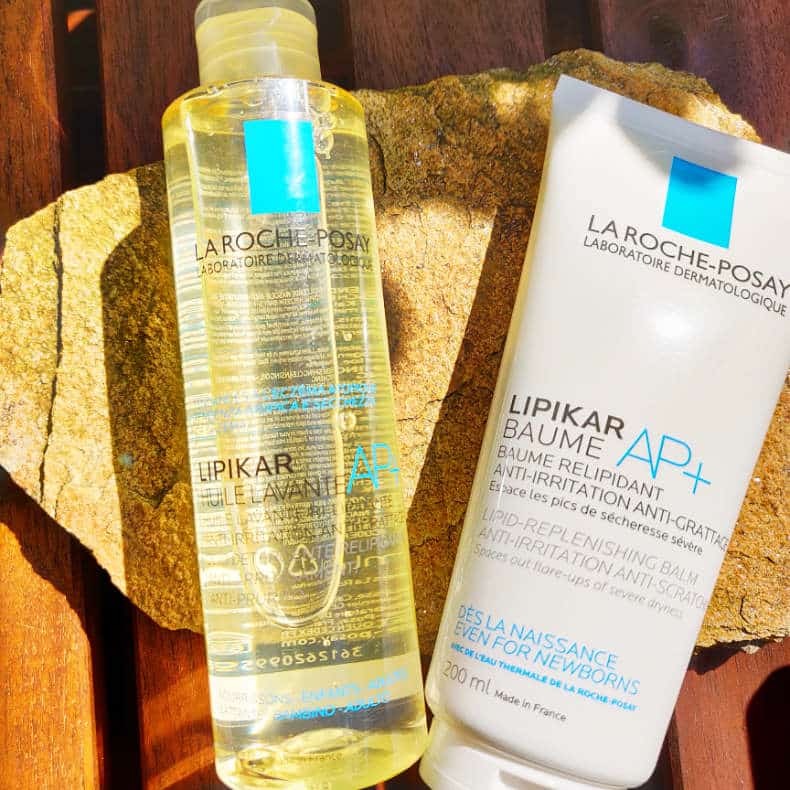 What's your opinion on the Lipikar AP Relipidant Balm?
Here is a relipidant balm with the thermal water of La Roche-Posay, softening and soothing and Shea Butter that moisturizes and nourishes the skin of infants and babies and soothes feelings of tightness.
Highly dosed in Niacinamide this balm soothes intensely and restructures the skin.
Brassica oil provides anti-irritation glycoprotein and essential fatty acids.
Several filmogenic active ingredients form u "coat" between the skin and the outside to avoid friction with clothing and limit the impact of wind, pollutants.
Use once a day, after bathing, on cleansed and dried skin (this balm is suitable for the face and body). It is also an excellent moisturizer of maternal skin during pregnancy. For my part I used it in the evening, after the shower and before bed. Thus the balm works all night, a time conducive to cellular repair of the skin.
The texture is rich, as desired for a balm, but melting to apply without having to rub.
I already bought it in large model with pump, so I know this balm well. It helped me enormously on my leg plates in winter and there this spring I use it all over the body for a soft and protected skin. I insist on elbows and feet (by the way it's my favorite treatment for ultra dry feet at night).
My red patches of eczema skin disappeared in 1 month this winter (plate parts and no trace on my skin).
TIP: Use this balm as an intensive night care for the hands, you will be surprised at the result.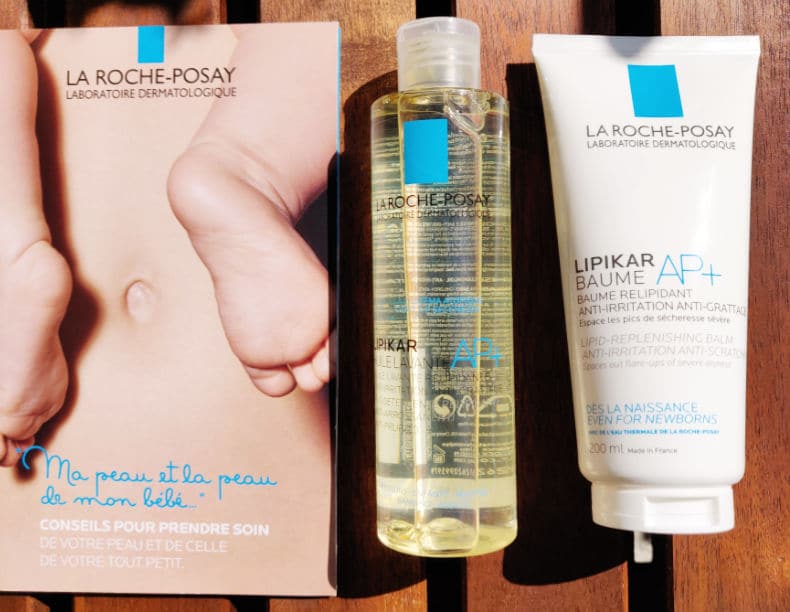 My opinion on this duo Lipikar La Roche Posay body: 
A 2-product ritual that is easy to use, enjoyable and effective for washing, soothing and repairing adults, children and babies.
These La Roche Posay cosmetics allow with just 2 products to limit the number of cans, vials in the bathroom.
No reaction and safe cosmetics, not completely natural but so beneficial!
LIPIKAR AP has already saved my skin for several years, so I enjoy recommending this range. I'm glad I was able to discover the washing oil that I hadn't bought yet.
For moms, ask for the "My Skin and My Baby Skin" guide which is full of simple practical tips to put up.
The F