Lack of shine, irregular skin grains, Vitamin C is a good solution, but it was not recommended for sensitive skin… until the arrival of Pure Vitamin C 10 special Sensitive Skin to the thermal water La Roche Posay.
I tested this serum, knowing that I have a reactive, sensitive and atopic skin. Moreover this winter I used the Hyalu B5 serum of the same brand.
Concentrated in pure Vitamin C (10%), formulated with la Roche-Posay soothing thermal water and soothing Neurosensine, this gelled-textured serum is designed to eliminate irregularities and reveal the radiance of sensitive skin.
This cosmetic is addressed to me for free by Hivency and LaRochePosay who have accepted that I give a sincere opinion, without filter as usual on this beauty blog.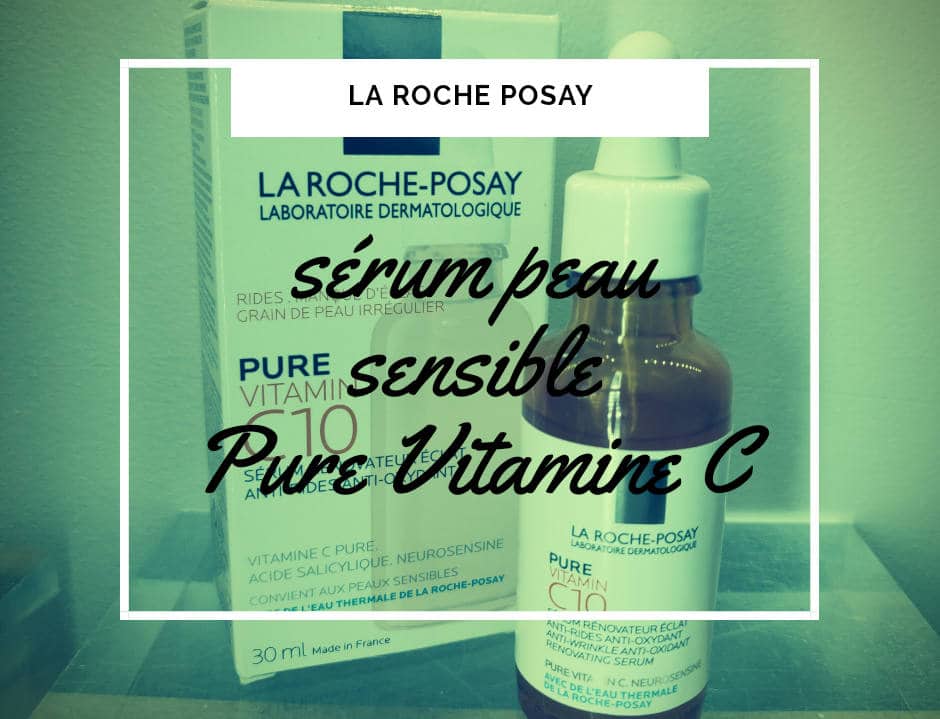 What are the effects of Vitamin C on the skin?
There are several derivatives of Vitamin C, but only Vitamin C Pure is recognized by dermatologists as an anti-wrinkle active!
L-ascorbic acid or pure vitamin C penetrates easily and begins to act instantly.
On the surface this vitamin will smooth the skin grain, eliminate dead cells.
In the skin, vitamin C will stimulate collagen production, reduce wrinkle depth, give a brighter complexion.
Except that this vitamin C hates heat, light, air … it is easily unstable. Hence the interest of using only renowned laboratories capable of stabilizing this anti-ing active ingredient.
On the other hand, be aware that a 30% vitamin C treatment will not have an effect greater than a 10% treatment, except risk irritation. Only large laboratories respect the Ph (acidity) of the formula for it to act, without risking damaging your skin.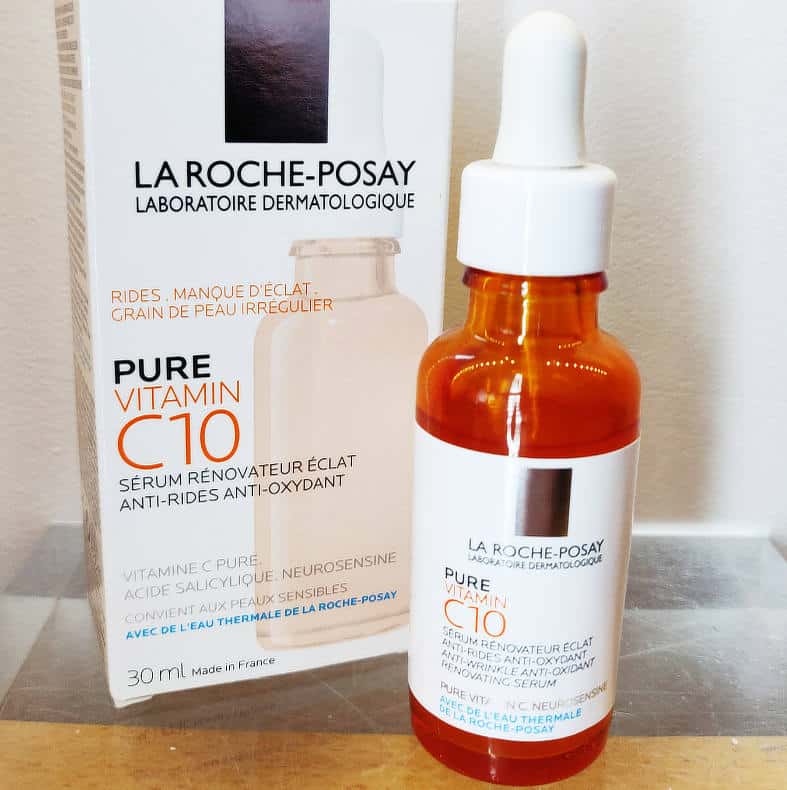 What active ingredients are in The Pure Vitamin C Serum La Roche Posay?
La Roche Posay soothing thermal water recognized.
Vitamin C Pure active at 10%.
Moisturizing glycerin, to keep water in the skin.
Texture and protection agents of pure VitaminC.
Propylene Glycol to help the vitamin penetrate deeply.
Adenosine, to energize and give a nice complexion.
Hyaluronic acid to form a cushion of hydration, useful for sensitive skin.
Split Hyaluronic acid, to tuck under the skin and give bounce to the face.
Anti Irritation Peptides / Acetyl Dipeptide 1
Salicylic acid in small doses to exfoliate the surface without irritation. As the skin is protected by the entire formulation, this serum can be worn during the day or evening.
More information about the official account https://www.laroche-posay.fr/
Let's go on trial over a few weeks: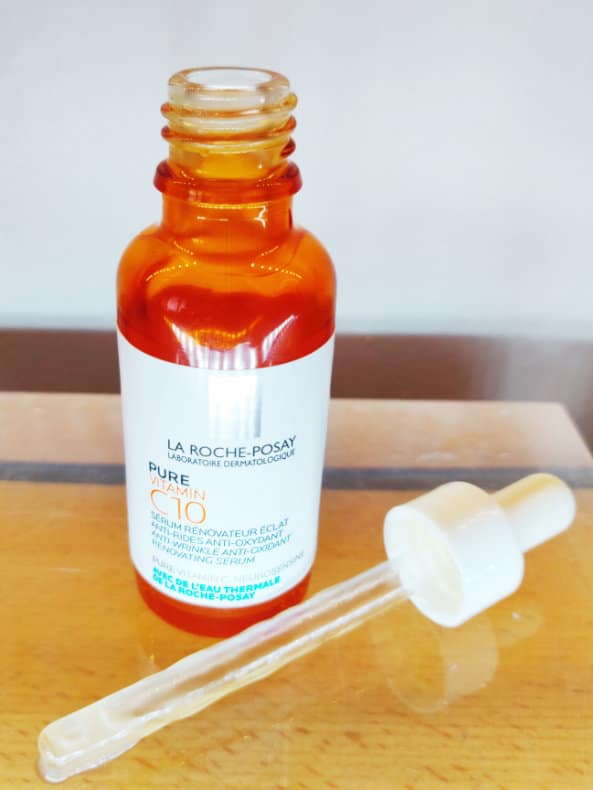 How effective is this Pure La Roche Posay vitamin C serum?
The glass bottle is orange to limit the impact of light on pure vitamin C serum. The cap is a plastic pipette that can be used to measure the vitamin serum.
A single dose is enough for the face and whole neck, thanks to a gelled texture that helps spread the active cosmetic.
I find that the skin takes on a slightly tanned hue, like a weekend of rest.
The pores are less visible thanks to the smoothing agents (salicylic acid and surface silicones).
TIP: any serum is used IN a moisturizer or cream, never alone! And during the day it is recommended to put a UV filter in addition to this serum.
On top of that, the time of the test, I use a classic moisturizer.
Respecting the dosage of a single pipette, because otherwise you risk to fluff and put too much is not useful or more effective.
In 7 days, the complexion looks well shaped and my skin yet sensitive, atopic and reactive … has no inconvenience.
This Pure Vitamin C LaRochePosay serum is really suitable for sensitive skin.
After several weeks, I must say that it is a good product at low prices.
A cosmetic that acts well on my skin grain (less irregular, smoother).
For the treatment of wrinkles it will be necessary to continue 2 to 3 months because vitamin C is known to dermatologists to allow to redo the tissues of supports (in the skin).
In addition Vitamin C fights the harms of UV which is useful on sunny days. Be careful, this is not a sunscreen, but a repairer of skin cells.
This Pure Vitamin C Serum is a booster of radiance, brightness that I like.
TIP: I also used it on the hands, to reduce sunspots: it helps to break ugly stains.
In addition, pure vitamin C slightly fights UV.
Do I recommend this special serum sensitive to vitamin C? Yes
This La Roche Posay facial is suitable for men, women, all ages and skin. It is sold between 29 and 34 euros and the bottle lasts 4 to 6 weeks easily.
With sensitive skin it is one of the few vitamin C serums that can be used. For other skins it is a good active pretty complexion This serum is also a good cosmetic as a first step before using a higher or more acidic concentration.
DID YOU KNOW THIS SERUM?
DO YOU USE VITAMIN C CARE?
Jeff from the beauty blog man and woman Geribook