Dermasens kit to take away by plane or on weekends. Cosmetics Green brand at low prices, healthy composition. Shower gel, shampoo and body milk. Dermasens cosmetics from the Green Brand Laboratory are sold in para and pharmacy, for people on tight budgets but uncompromising on quality because without endocrine disruptor. For a weekend or a trip, Dermasens offers an accepted kit in the airplane cabin, with the necessary for the whole family.

Take care of yourself, even away from your bathroom, with the new kit consisting of a monoi-scented surgra shower gel, an extra soft shampoo without sulphate and silicone and a creamy, ultra-hydrating milk in 50 ml format. I am reassured because this brand is without endocrine disruptor that cause early puberty, have harmful effects on reproduction, growth, amplify the risks for offspring … in short, healthy cosmetics, at a low price.
Abordé dans cet article :
So this is the perfect treatment kit for a getaway
Who is this Dermasens cosmetics kit for?
Shower gel, shampoo and body milk are aimed at adults and children, with a composition without MIT, without Thiazolinone derivatives (to which I am allergic and which burn the skin), without phenoxyethanol, without mineral oil, without nano molecules.
The 100Ml Dermasens shower gel features gentle foaming agents and cleansers, extra-fat active ingredients to restore skin balance, a natural ph adjuster, a natural scent of Monoi. Indeed it foams really a lot, which will please Sir, and it washes the whole body well. It contains sodium laureth sulfate which is significantly softer than sodium lauryl sulfate and that's good.
The 50ml Dermasens shampoo is sulphate-free and silicone-free, smoothly washing all hair types. His soothing active ingredients do good to the scalp, which he respects. Its anti-static agents avoid crazy hair. Used from 3 years old, it's convenient to have only one tube for the whole family while traveling.
Dermasens ultra moisturizing body milk in 50ml provides emollients (soft skin) and moisturizers. Also nourishing vegetable oils such as shea and argan. Enough to show a joy skin on the body and take pleasure in taking time for yourself on vacation.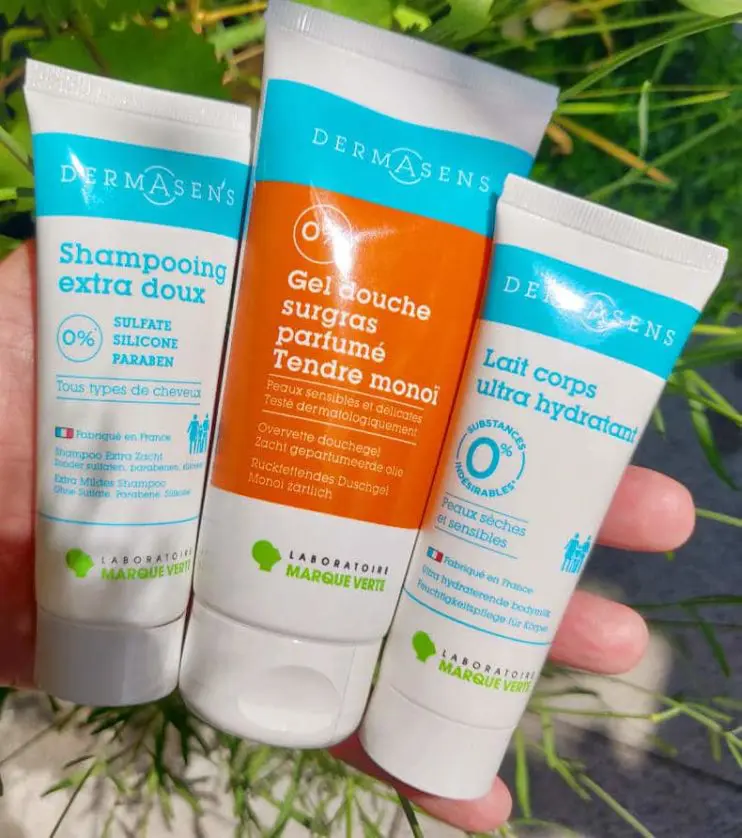 My sensitive, atopic skin perfectly tolerated these 3 cosmetics. I like the idea of a kit with already what will be necessary for a short stay. In addition for about 8 euros is a good value for money given the compositions. The Green Brand Laboratory offers an alternative to worried consumers, an economical alternative that is moreover because accessible to all in terms of price. 
What do you think??